Sniffing Out Covid
July 27, 2020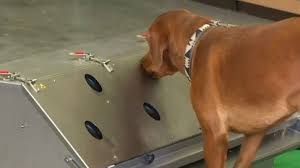 German Defence Minister Annegret Kramp-Karrenbauer on Thursday praised an army program working to train service dogs to identify the coronavirus in people's saliva but said there were still many months of work ahead.
"I want to make clear here that the next steps, like for example being able to differentiate the virus from a normal influenza or to be able to differentiate an active carrier are all questions that still need to be answered and so we will need more months to be able to offer up clear results," Kramp-Karrenbauer said during a visit to the military canine training school in Ulmen.
Service dogs cannot identify the virus itself but can sniff out bio-chemical changes in body fluids caused by the virus. The dogs, considered comrades by the army, need less than 100 microlitres of salilva to produce results.
A variety of breeds is working with dedicated dog trainers and the Hanover University of Veterinary Medicine on a rewards-based system. The dogs are given treats if they identify saliva affected by the virus and no treats for sniffing out healthy saliva.
Elsewhere a French veterinary team is training dogs to sniff out COVID-19 sufferers from the smell of their sweat.