PAWS Support Programs
November 23, 2020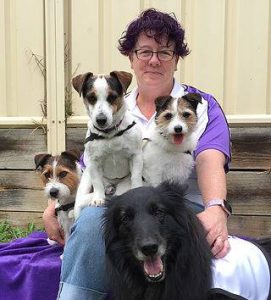 Medical staff, teachers, first responders and essential workers have barred the brunt of tough Covid-19 working conditions and the team at PAWS Pet Therapy want to help.
Camden Council has provided the Thirlmere-based organisation with funds for a post-Covid support program for people in the Camden region.
PAWS chief executive Sharon Stewart said the funding would allow them to recruit more volunteers for the program.
"The money will allow us to offer our courses for free which will enable us to train up a few more teams in the Camden area," she said.
"These teams will be placed with community groups, schools, hospitals – anywhere that really needs it.
"As we starting to come out of the Covid restrictions people are in need of support so we want to be able to offer it to them for free."
Ms Stewart said volunteering with PAWS was very rewarding.
"It's a lovely way to volunteer with your dog, we get a lot of special feedback and you often see some really special moments," she said.
"What we do can really make a difference and we provide all of the training and support."
The post-Covid support program is expected to support workers who have been on the frontlines of the Covid-19 pandemic.
Ms Stewart said canines of all shapes and sizes were welcome to become therapy dogs.
"I always tell people to start by giving us a call, even if you think your dog isn't 100 per cent ready," she said.
"It doesn't mean your dog will never be a therapy dog, you might just need to put in a little more work – every dog has different skills.
"Basically we want dogs who are healthy, loving and confident enough within themselves that they won't be startled by sudden noises and noises at the hospitals.
"We have therapy dogs of every size from Chihuahuas through to a Newfoundland and everything in between – and they all do a great job."
Ms Stewart said they hoped to get the new program up-and-running as soon as possible.
"We've already had hospitals and other organisations contacting us to start work early in the new year," she said.
"So we want to try and get these teams together as soon as we can.
"If anyone in the Camden region would like some free pet therapy visits for their staff, students, teachers or community group feel free to reach out to us. "Pet therapy can benefit everyone."