Playing With Dogs
July 13, 2020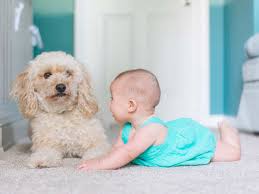 Pets are stress relievers and that's no news. But there's more to pets and how they can help humans. A new study focuses more on how pets are important for toddlers as well. Research finds that children that have dogs around are 23% less likely to have difficulties dealing with their social and emotional interactions than the kids who don't own a dog.
A team of researchers at the University of Western Australia and Telethon Kids Institute investigated around 1700 households with children between the age of 2-5 years with a questionnaire. The study states that children who grew up with dogs were 30% less likely to engage themselves in antisocial behaviours, 40% less like to have issues while interacting with other toddlers and 34% more likely to engage in thoughtful behaviour.  A study researcher Hayley Christian from the University of Western Australia explains, "Our findings indicate that dog ownership may benefit children's development and wellbeing and this could be attributed to the attachment between them and dogs. Stronger attachment between children and their pets may be reflected in the amount of time spent playing and walking together and this may promote social and emotional development. While we expected that dog ownership would provide some benefits to young children's wellbeing, we were surprised that the mere presence of a family dog was associated with many positive behaviours and emotions."
It was further explained in the study how children took their dogs on walks for at least once a week. These kids were 36% less likely to have a weak emotional and social development. Toddlers who played with their dogs for more than three times a week were 74% more likely to engage in mindful behaviours.