Police Department Pawfficer
August 26, 2020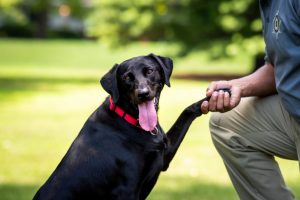 After not being in the office for a couple of months, Sage didn't want to put her halter on and go back to work. Some can relate.
But she also missed her 20,000 friends. Sage's freshman year ended prematurely, as the University moved to online classes in March due to the coronavirus (COVID-19). The 3-year-old black lab came to ISU a year ago as a new recruit for the Illinois State University Police Department  (ISUPD). As a part of the community engagement unit, she is everybody's dog.
And she knows it. In her first year, she connected with nearly 9,000 students, faculty/staff, and community members. And she showed up to 117 events. That's a lot of socializing, even for Sage, who still needs some down time in her home at the police department in the Nelson Smith Building.
Last fall she had some health issues but a change in diet made all the difference. When the department went to reduced staffing last spring, she went home with one of the officers, but was back in the office in July, doing what she does best–visiting.
Sage came to the University last fall after a successful crowdfunding campaign, which raised more than $4,000 in a week. Her job is to help students transition to campus, assist officers with educational programs, provide comfort to crime victims, and provide a little pet therapy during programs such as PAWSitively Stress Free.
Kevin Goffard '16, service area coordinator for Tri-Towers, has watched her work her magic at residence hall events, and sees her popularity as a campus icon rising.
"While everyone loves Reggie, everyone also loves Sage," he said. "Sage truly helps bring out the Redbird spirit of everyone who encounters her. She helps to tear down walls, helps build bridges, and reminds us to be a bit more kind to one another."
Part of Sage's outreach is to be there for victims of crimes. Tim McCue, area coordinator at Tri-Towers, understands why she's so effective.
"They're not telling the story to a police officer, they're telling the story to Sage," he said. "Just as if you had a dog at home, the dog plops down next to you, and you tell them about your day."
Sage also breaks down barriers between officers in uniform and students. When Sage does meet-and-greets with officers, it's a different experience than an officer walking alone, McCue said.
"One of the coolest things that happened was students were having conversations with police officers that I've never heard before. The flow of that conversation started because the student asked, 'Can I come pet your dog?' And within 10 minutes we've gotten to, 'If I feel unsafe walking home, what do I do?'
"Our officers are so seamlessly a part of the interaction. They're able to let Sage be the star but as they start talking to students, they weave in education, and pieces of soft advice about being successful on campus. They blend the role of police officer and educator. Sage is the foot in the door, but what they are able to do once Sage gets them into the door is really fun to listen to."
Officers have handed out more than 5,000 Sage badge stickers, which McCue said are like gold. "You see them on students' laptops. Getting a sticker of Sage is on the bucket list at ISU."
Watterson Towers Residence Hall Coordinator Kate Rybakova, M.A. '19, invited ISUPD and Sage to a program she was giving on alcohol and drinking and driving awareness. Sage greeted students at the door.
"Sage was definitely part of the reason why the program ended up having such a high turnout," she said. "Seeing a therapy dog in the room, students just couldn't resist the urge to come in and pet her."
ISUPD Chief Aaron Woodruff knows Sage's weakness–balls. Any ball.
"She's spoiled," he said. "You put a ball in front of her and that's all she cares about and she won't stop. She'll come into the office and drop it there and just stare at you."
Initially, she was trained as a service dog through SIT Service Dogs, which breeds, trains, and places service dogs for those with disabilities. But trainers found her a little too social for that role. Now, she's right where she belongs.