Police welcomes new recruit
April 27, 2020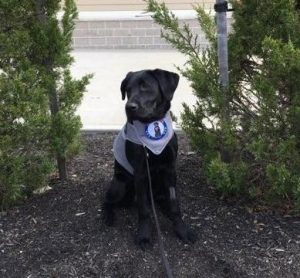 An idea years in the making finally became a reality this week when the Claremont Police Department announced that a new furry officer will join the force later this year — a comfort dog from Hero Pups in Portsmouth.
In a public Facebook post on Wednesday, April 22, Claremont Police Department said that a male Black Lab mix, whose duties consist of "supporting victims of all crimes, engaging with families and children during difficult times, and being a resource that the community as a whole can access," will arrive at the station ready for work in the next four to five months, according to Claremont Police Chief Mark Chase.
Chase believes having a service dog who can provide comfort and support to members of the community and first responders will be a vital resource for the team's response to a myriad of calls.
"It's going to be neat to have a dog around here that we can pat and destress ourselves at times but it's mainly to hopefully break the ice and comfort people who are going through a traumatic time in their life that we can't fully understand unless we're standing in their shoes," Chase said. " So we are excited."
The thought of acquiring a comfort dog for the benefit of the community and department began in 2017 when Chase became chief of police. In an effort to strengthen the connection between law enforcement personnel and local residents, one of his initial goals was to start a K-9 program. After conducting some research, Chase was able to find a grant for a police K-9.
But this was only the start of what would be a long and enlightening journey.
It soon became evident to Chase that while a K-9 is essential in certain situations, their ability to provide much needed support is not something they are trained to provide.
That is when the concept of a comfort dog — a service dog of a different skill set — was brought once again to the surface. It wasn't until Chase attended the CHaD Battle of the Badges Baseball Classic in 2019 that he met with Hero Pups, a New Hampshire-based nonprofit organization run by volunteers that trains shelter and rescue dogs to become service dogs for veterans and first responders, who was there with a puppy being trained for the Dover Police Department.
Chase then realized the trend of comfort dogs as part of local law enforcement departments is no stranger to New Hampshire. Police in Concord, Franklin, Hancock and Manchester, as well as the Cheshire County Sheriff's office, are just some of the agencies where comfort dogs may be called to put their wagging tails to use.