Puppies Being Their Adorable Selves
May 4, 2020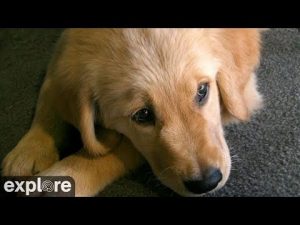 Lockdown is tough.
It now feels quite a lot like Groundhog Day as all of the days blur into one.
But, of course, staying at home means we are doing our bit to slow the spread of coronavirus.
And if you're Netflixed out and looking for some light relief, we may have found it.
Because online you can find adorable online streams of a puppies.
They are in the USA, so the time difference means it's best to log in later in the day when they're awake and enjoying themselves.
Those behind it say: "WCC's programme not only creates valuable service dogs, it harnesses the healing power of the warrior ethos and the human-animal bond.
"The program is designed to trigger powerful mind/body effects in our warrior trainers that reduce the symptoms of combat trauma."