Puppy Love
June 4, 2020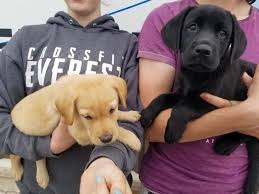 They started out in rough circumstances, some born in the dirt under a truck, with most of their littermates dying in their infancy.
But three little Labrador retriever pups have flown into a future where they are going to make a difference in the lives of people who need their help.
About nine weeks ago, just as the coronavirus stay-at-home orders were beginning, a man called Karen Martin at the Franklin County Humane Society to tell her he had a young pregnant female lab and that his family didn't have the ability to take care of a litter of puppies.
"My dog's about to give birth," he told Martin. "She'll probably have them in the dirt under a truck."
The shelter director knew he was trying to do the best thing, but he wasn't able to bring the dog in to the Eastpoint adoption center.
The next thing Martin knew the dog had begun her labor, and so she rushed over to help. "She had already given birth to two, and she was actively bringing birth to a third," she said.
Martin transported to dog, still in labor, to the shelter. "She went on deliver seven more, and all needed assistance," she said. "Mama is young and she was confused and tired."
So with the help of an assistant, Martin removed the membranes and cleaned the puppies. "One we had to resuscitate," she said.
The tiniest of the 10 never had a chance. "One very small one didn't make it (and died) in three days, even with bottle feeding," Martin said.
As it turned out the dogs had contracted from their mother canine herpes, sometimes referred to as "fading puppy."
What happens is that otherwise healthy puppies become sick and die at three to four weeks from the illness, although it doesn't affect the mother's health and well-being.
"Nothing can be done," Martin said. "It's passed from mother to puppy and any puppy that contracts it will die."
Of the six black and four blondes that initially comprised the litter, all but two blonde females and one black male survived.
She said based on the look of the puppies, they assume the father was a Labrador retriever as well.
While the story had a happy ending for these three pups, here is where it gets even better.
"I told him about the three lab pups we had available and figured we'd ship one to him via commercial airlines," said Jimerson. "But the commercial airlines, we discovered, were not flying pets right now due to the pandemic."
"He was concerned about traveling down, so my friend reached out to the Pilots N Paws Rescue organization for help," he said.
Pilots N Paws, a 501(c)(3) non-profit organization, provides an environment in which volunteers can come together and arrange or schedule rescue flights, overnight foster care or shelter, and other related activities.
"They quickly got involved and also told Karen Martin about a group in northern Wisconsin, called Crossroads K9 Rescue that wanted the other two pups to train as service animals," he said.
Also a non-profit, Crossroads rescues dogs left homeless and/or abandoned in overpopulated shelters where they are at high risk of euthanasia, and those in danger of abuse or neglect, and restores them to health, funneling many of them to training as service animals.
"It's for whatever the dog turns out to be good at," said Jimerson. "If it's a better sniffer, they may train it to find an autistic boy who keeps running away."
Schuh flew the pups to his home in Janesville, Wisconsin, where they spent the night.
The next day, Lerner and wife Deana picked up the blonde female they had named Daisy, after it was flown to Ames, Iowa by pilot Steve Reeves.
Meanwhile, the other two pups, the blonde female Ruby and the black male Ryker were picked up by pilot Gaurav Dogra and flown further north in Wisconsin to Crossroads K9 Rescue in Mosinee, where they will both be trained as service animals, likely to help a veteran dealing with post-traumatic stress disorder, or a child whose mental state calls for him to have a devoted companion.
"They'll be in training as long as eight months. They'll keep them in their care," Jimerson said. "All three pups are doing great in their new homes."
Meanwhile, the mother, who the shelter calls Trixie, is doing well, and once she is spayed, will be returned to her owner.