Remembering A Service Dog
December 22, 2020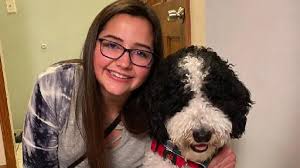 "At first I was just hoping that when he ran back to me maybe he just had a broken leg and I was in complete shock of everything that happened," said SU graduate student Haley Michlitsch.
Haley Michlitsch was walking her service dog Addy when he jumped in front of a car that almost hit Haley. Instead, Addy was struck and died shortly after.
Haley has a rare adrenal disease that impacts how the body manages stress. Addy was specially trained to alert Hayley when her health was at risk.
"I felt like we had a connection and we were finally really close and he was my best friend, he was my protector. Even until the last few seconds of his life he was protecting me," said Michlitsch.
Haley got Addy from Diabetes of America in October. To bring him home, she waited months and was trying to raise $15,000 to afford his training and travel expenses. She hadn't even finished paying him off before he died. The loss has taken a huge toll on Haley's health.
"I've had to double up on my steroids just to keep my body going on a daily basis quite a bit and just take extra steroid just so I can try to prevent going to the hospital as much as possible adjust because it was a very stressful experience for me and still is ongoing stress that I'm dealing with," said Michlitsch.
Haley says one of the most difficult parts was having to watch someone hit Addy and then run off. She has been working with police to find the person responsible. She says if someone had stopped to help, things might've been better.
"I just want people to know what service dogs do and the impact of rendering aid. When you do hit something, stopping because again the circumstances could've been totally different. Even if Addy had still passed. If the car had stopped the situation would've been totally different and there would be a lot more forgiveness to that individual that ended up hitting Addy," said Michlitsch.
However, some members of the community have stepped up to help Haley.
A GoFundMe page has helped raise enough money to cover the costs of Addy, as well as the costs of another service dog. Haley says any additional money that's raised will go towards helping someone else in a similar situation.