Retirement Community Gets Furry Visitors to Liven Up COVID-19 Quarantine
May 7, 2020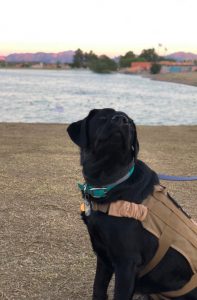 Residents at The Middletown Home retirement community recently received some very special visitors. Local animal rescue and service organizations brought animals to the facility and made one-on-one visits to each resident's window. The smiles and joy these visits brought went a long way in helping liven up the extended quarantine these high-risk residents are enduring.
Puppy Parade Featuring Service Dogs
Therapy dogs from Susquehanna Service Dogs went window to window, sharing their love and comfort right through the glass. Participating dogs included Safari, an eleven-month-old Golden Retriever; Guinness, a year and a half old black Lab; and Blanche, a five-year-old Golden Retriever. Blanche is The Middletown Home's own "Facility Dog," so her presence was especially appreciated.
Surprised Residents Greeted Horses Warmly
Imagine their surprise when residents answered a knock at their window to find two horses swinging by to say, "hello!" The delight was apparent and written all over the resident's faces. Rosie and Lenny were big hits in this effort to keep residents entertained. Lenox, "Lenny," is a rescue horse owned by Samantha Horn. Rosie, a mustang who was once labeled "untameable," is cared for by Olivia Bort. Bort adopted Rosie through the Bureau of Land Management. Rosie and Lenny both live at Justamere Farm in Middletown.
The Middletown Home Staff is Working Hard to Keep Residents Happy
This time is challenging for us all. It's especially trying for those who are high-risk and must be very strict about following CDC guidelines. Many of the community members at The Middletown Home have been completely isolated during this time. In addition to organizing these friendly animal visits, the staff at The Middletown Home have started a "Family Video Call" program. It's a thrill for these retirees to be able to chat directly with their loved ones in this format. Pastors are making regular visits to the residents, and the staff has put together activity packs, as well. Residents can stay busy and beat the boredom of quarantine with puzzles, word searches, crosswords, coloring pages, and more.
Louis Vogel, III, Chief Executive Officer at The Middletown Home, told ABC24, "We hope that this quarantine will be over soon, but we certainly have learned a lot about the strength there is in community, the importance of connection, and the love that can overcome any distance."
It's so heartwarming to hear positive stories like this during such a challenging and lonely time. Seeing communities come together to put smiles on faces and love into people's hearts is a huge silver lining in this unprecedented situation.