Second Service dog found dead
April 8, 2020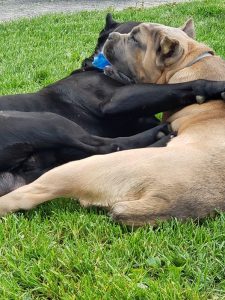 The owner of a missing service dog said the dog was found dead in the same pond her other service dog was found.
According to a Facebook post, when scuba divers were first looking for the service dogs, they found Orso but could not find Lucia until Tuesday because she was covered in weeds.
The owner, Mary Ann Powers, thanked everyone for the love and compassion she received during the search and said the two dogs will be buried in about a week.
"Update. It is with a heavy heart and many tears that we inform you that Lucia was found in the pond with her brother. The scuba divers didn't see her she was cover In weeds. I am so taking back with all the love and compassion from every for your compassion for Lucia and Orso. In my heart or hearts I thought we would find her. Everyone gave 200% trying to find her. The money will be donated to the search and rescue for Corsos. But it will not stop there i am going to morn our loss then i am going to start an organization a 501c that helps these dogs there MUST be advocates for these dogs I have seen dogs beaten to death, used for fighting and just tossed out THESE people must be held accountable. I will start working with Senator Tedesco and alot of people are getting ready to join up but this needs to stop! Its sick and it is far from not over. Lucia will be home with her brother in a week or so we will bury them but they will not have died in vain. If your ready to take on the the law makers to get some laws passed protecting these animals and making it a criminal offence please contact me next week. Thank you again for all your prayers and hope God Bless you with all our love Mary, Gil. Orso and Lucia thank you from our hearts."