Seizure Alert Dog
September 25, 2020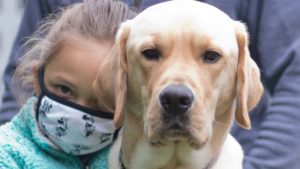 One girl's journey to get a service dog ends on a happy note. Addi Lewis, 7, lives with epilepsy. As we reported in November 2019, the Tri-Cities community rallied behind her with fundraising efforts. It costs $20,000 to get a medical alert dog. Generous community donations of roughly $10,000, a $2,500 grant and a $15,000 scholarship from Eyes, Ears, Nose and Paws got Addi past her goal. This week, she finally matched with her new companion, Bear. The original plan was to name it Tinkerbell, but that quickly changed after seeing how large and cuddly Addi's match truly is.
Addi's family is beyond grateful for the incredible show of support, like from the Bristol, Tennessee and Haynesfield Elementary School communities.
"Our village, before we even asked for one, came to us. And we can never we can never repay them for it," said Beth Lewis, Addi's mom.
Bear is trained to alert the family or those around Addi before she has a seizure. This measure is potentially lifesaving, especially with Addi's condition.
"There are so many risks with seizure patients, any type of epilepsy, falling and of doing more damage than what the actual seizure did to them," said Beth.
This summer, the Lewis family moved from Bristol, Tennessee to Navarre, Florida. A community there also helped fundraise.
Addi is still training with Bear at the Eyes Ears Nose and Paws training center in Chapel Hill, North Carolina. She will get to take Bear home early next month.