Service Saves Dog
June 18, 2020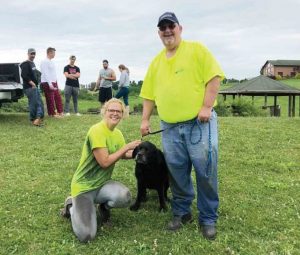 Gary O'Brien, owner of O'Brien's Confined Space Rescue Services, never expected to get a call to rescue a dog in Pennsylvania.
He said his business is a niche market, but the confined spaces are at work sites where they have to affect the rescue of someone trapped within four minutes.
"Knock on wood, at the job site, every safety measure is taken, and at the end of the day, no one has to be rescued," he explained.
But around 7 a.m. Saturday, O'Brien got an unexpected call. It was from a woman in Avella, Pa., whose dog, Dutch, was trapped in an 18-inch pipe. By the time she called, the dog had been stuck for 12 hours, as local fire departments had tried to extract him.
"She went on our website and called my cell phone," he said. "She was darn near hysterical. She was extremely upset."
He called a couple of his employees, Carri Tucker who lives in the Frederick, Md., area, and Travis and Tracy Sandford of Marietta. He and the Sandfords made the 2.5 hour drive, while Tucker drove 3.5 hours to save the pet.
"They were playing in a pond and as he was coming out, he got sucked into the overflow," O'Brien explained. "I hope they have that pipe covered now with a grate."
To reach the 100-pound black Labrador, Tucker had to crawl through 200 feet of the 18-inch pipe.
"That's four lengths of a fire hose," he added.
The pipe she traversed was horizontal, while the dog had fallen down 25 feet of vertical pipe. He was stuck in the elbow of the pipes. For the rescue, she was equipped with lights, a helmet, ropes and a harness. A ventilation fan blew down the vertical pipe so she could have fresh air.
"She then had to reorient him so they were nose-to-nose," O'Brien said. "He was trapped with all four legs pointed up."
Tucker said it was a tight squeeze, which is why she was used. Before she left home, she measured across her hips to make sure she would fit.
"I used to work in a pipe yard, so I used to rescue cats," she said with a laugh. "It wasn't my first pipe animal rescue."
It took 45 minutes to harness Tucker and get the ropes ready, but it took less than 12 minutes to get in and get the dog free.
"If you asked any of us, it took 30 to 45 minutes," O'Brien said.
For Tucker, it was no big deal.
"The dog was very chill," she said. "When I got back to where he was, he was just like 'hey, you going to stay for a while?'"
Dutch was wet, tired and sore, but he said the dog ran up the hill when he heard his owner's voice.
The dog's owner, Renee Gilmer, asked O'Brien how much he was charging, and even though this wasn't a usual rescue for his business, he wouldn't charge her. She had recently lost her job due to the COVID-19 pandemic.
"She was yelling and was freaked out. He was pretty shaky and weak when we first got him out," Tucker said. "When he connected to her voice, he shot up the ravine to his mom. Then he went to the bathroom for like, five minutes."
O'Brien said his employees refused pay, although on the weekends, they receive time and a half their normal pay.
"The true stars are Travis as team leader and Carri. They made this happen," he said. "If that was my dog, I'd want someone like us to rescue him."
Travis said from where he was, he had the easier part than Tucker.
"I set up the rigging and made sure the space was safe to enter," the 22-year member of the Marietta Fire Department said. "I was in charge of if we thought anything was wrong, I'd stop it."
He said they've never rescued a dog before, so it was an unusual call.
"It was an interesting thing," he said. "And I hope we never have to do it again."