Social Distancing With Your Pets
July 22, 2020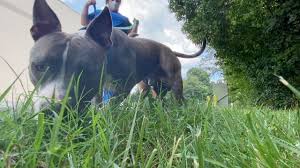 Pet owners have been left scratching their heads after a German shepherd dog in South Carolina contracted the coronavirus from its owner. The dog had a pre-existing condition and was eventually euthanized.
If you're a pet owner, you may recall that just a few months ago, the latest guidance on COVID-19 said it was unlikely dogs and cats could get the virus. But there are now commercial labs conducting COVID-19 tests on pets.
For most owners, pets are like any other family member that would go to the doctor if they're ill. Aside from the common mishaps that can happen with a dog or cat, the Centers for Disease Control now says we need to be vigilant about COVID-19 not just in ourselves, but also our dogs and cats.
"It is not unusual or unique for a dog to test positive," says Dr. Jim Dobies, president of Gaston County's Urgent Vet Clinic. "The CDC is very clear that we should, as practitioners, suspect COVID-19 in a dog or a cat that comes from a household where humans have been infected."
The respiratory, temperature, and gastrointestinal symptoms are similar.
"Those are very subjective findings that humans are able to report, dogs and cats obviously can't report those symptoms." He says the science shows while cats can spread it to one another and then to a human, dogs only appear to be getting it from people. "It would be important not to get in our pets faces if we are positive for COVID-19," Dobie says.
It's easier said than done, he admits, especially for those whose pet is also their service animal. "If you're recovering from an illness, the emotional and psychological support that we get from our pets is very important," he says.
And though cats and dogs can have compromised immune systems, which makes fighting the virus harder, Dobies says the likelihood of having to euthanize a COVID-positive pet is remarkably low.
"Every bit of evidence that I've seen up to this point says that dogs and cats, COVID-19 is a milder condition, a milder disease than it is in humans," he says.