Support Of Veterans
July 7, 2020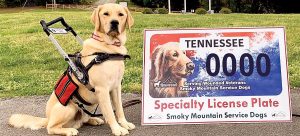 Are you a Tennessean who loves dogs, wants to support disabled veterans and would like to sport an inspiring specialty license plate on your vehicle? Then, Smoky Mountain Service Dogs needs your help to meet its goal of pre-selling 1,000 specialty plates this summer.
SMSD, located in East Tennessee, trains mobility assistance service dogs for veterans with service-connected physical and psychological disabilities.
The nonprofit has helped veterans, such as retired U.S. Army First Sgt. Charles Stewart, regain their lives.
He is a 100% Veterans Affairs disabled veteran with post-traumatic stress disorder. Smoky Mountain Service Dogs trained and provided Sadie, a Labrador retriever, for Stewart.
"Sadie gives me confidence and the ability to be more mobile through her mobility assistance and calms me during my PTSD episodes," Stewart said. "I find myself having structure back in my life just being with her 24 hours a day. My family has seen the change in me as my wife has commented that I show sides of me before I was ever in the service. I am truly blessed to have gone through this experience with Smoky Mountain Service Dogs."
The nonprofit is an all-volunteer organization except for professional trainers so 95 cents of every dollar donated goes directly to the organization's mission. It costs approximately $25,000 to train one mobility assistance service dog which the organization places with a deserving veteran at no cost to the veteran.
Smoky Mountain Service Dogs relies on grants, donations and fundraisers for operating expenses, and SMSD is accredited by Assistance Dogs International as the only accredited service dog organization located in Tennessee.
"To see the loving bond that develops between a veteran and his or her beloved service dog is extremely gratifying," said Suzy Kitchens, co-founder of Smoky Mountain Service Dogs.
"With a service dog by their side, veterans' lives and their families and communities are changed forever because the veteran can finally acclimate back into society after experiencing what most of us Americans will never truly understand."