Training Dogs To Sniff Out Virus
April 29, 2020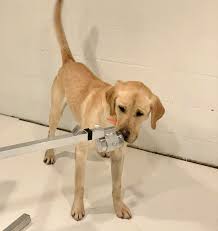 Eight Labrador retrievers are being trained at the University of Pennsylvania, The Washington Post reported. Research shows that viruses have odors and if dogs can detect the disease, they may be used at hospitals, businesses, and airports to screen the virus, according to The Washington Post.
"We don't know that this will be the odor of the virus, per se, or the response to the virus, or a combination," Cynthia M. Otto, director of the Working Dog Center at Penn's School of Veterinary Medicine and leader of the project, told The Washington Post. "But the dogs don't care what the odor is. … What they learn is that there's something different about this sample than there is about that sample."
Medical Detection Dogs, which is partnering with the London School of Hygiene and Tropical Medicine, Durham University, and Canine Performance Sciences at Auburn University's College of Veterinary Medicine, are also seeing if dogs can detect the virus, according to Salon.
Otto told Salon that it's possible for dogs to detect the virus. "I suspect that they could if we could train them appropriately and safely," she said.
The London School Of Hygiene and Tropical Medicine already determined that dogs can be trained to sniff out malaria and are trying to see if the same can be done for the novel coronavirus.