Veteran Gets His Service Dog
September 21, 2020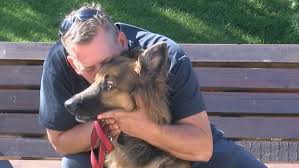 It's a companionship like no other. Many would probably describe it as unmatched loyalty, the bond between a dog and their human.
"Oh, he's a gem, he's the best, he really is, he's got my back for sure," United States Army Veteran John Daniels said. "He's everything, he's absolutely everything. I don't even know how to find the right words, but he's one of the most important things to me.
For many of us, getting a dog can be life changing, but for John Daniels, it was life-saving.
"I wouldn't be here today if I wouldn't have got him," John said.
At 17-years-old, John enlisted in the United States Army and served until 2002.
"I broke my neck in the service, separated my right shoulder and I'm not always stable," John said.
Coming home is something john admits was a struggle, often reliving the terror he endured again and again.
"That stuff invades your mind, it will show up when you least expect it," John said. "It's disruptive, disruptive to family to a job."
Something John's sister is fully aware of.
"When my brother came back, he tried so hard to just bounce back, but it doesn't work that way," John's sister Susan Stella said. "When you have a flashback, a bad one, you can be doing anything it's in your mind and it's like your somewhere else."
But then John got Ryker.
"If I'm having a hard time at night, he wakes me up and makes sure he's right by my side," John said.
When John finds himself in a tail spin, Ryker gives him structure.
"He lets people know to stay back, and that helped me start to mitigate in a public setting, because I wouldn't go anywhere, I'd literally shut down," John said.
He knows when john needs him.
"He came in at the best time, because it was a time in my life when I wanted to give up,
I didn't see a brighter day in my future," John said.
"My brother would not be here today if he had not gotten Ryker, I watched him fight for his life for 10 years, trying to get a grip on the damage done to the inside of his body from the chemical warfare," Susan said.
"I can honestly say that he helped me through those dark days and he still does, and things for me definitely turned around since I've had him," John said.
Now moving towards a goal of helping other veterans who may be struggling.
"A service dog is probably one of the best things a veteran could do for himself," John said.
"None of them deserve to go through what I did. If I can make a difference by helping these veterans get dogs, that's my new purpose and I'll do everything I can."
John told us about another veteran who needs help.
According to him, there is a dog named Liberty who is being trained and is ready to go to a local veteran, but they need money to make it happen, and it has to happen soon.